Here I am with some adorable moments of my life & those adorable moments came to me because of my blogging journey. Thanks to me for writing "The World Remade" post because of that I won a pass of worth rupees 1 Lakh to attend the India Today Conclave.
I am thankful to BlogAdda, I won that pass because I participated in contest "The World Remade" started by BlogAdda.
Event Details – India Today Conclave 15
Theme – The World Remade (Renew , Reinvent, Reimagine)
Date – 13th & 14th March
Location – Hotel Taj Palace, New Delhi
Below some pictures you must check –
Speakers of the #Conclave15
The Decoration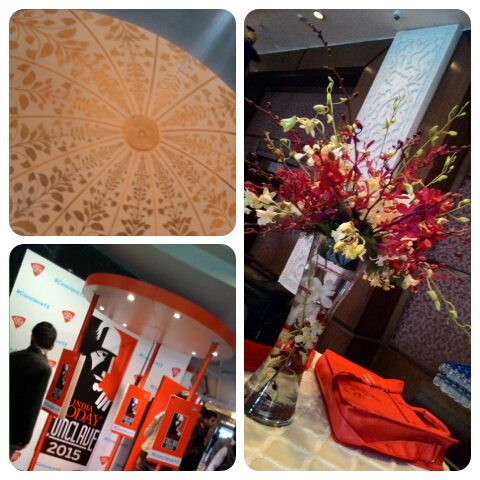 My Batch for the Event
Note – No wonder to be the part of Conclave was full of learnings & fun, but at moment when I am writing it, I am not able to recognize each and every topic from the Conclave. In the article I will try to cover all most important highlights from the event.
Programme Agenda
 This great #Conclave starts with the words of Mr. Aroon Purie (Chairman & Editor-in-chief). Mr. Purie mentioned "Narendra Modi is now the future of India". As per Mr. Purie 'Poverty Elimination can be done by creating more jobs – this should be Modi's new approach.
Prime Minister Modi has hit the ground running with his vision and the direction he wants to take the country. I believe it's the right vision By Aroon Purie
After the final words by Mr. Aroon, hall temperature went literally very high (Not because of Air conditioner but because of something else). If you have seen the above programme agenda then you must be aware of. This was the most waited time for all, this was the time for "Hero of our Times, Life lesions from the legend". Here we have the entry of "The Legend – Sachin Tendulkar". Not only the people but all the screens were shouting with love & excitement "Sachin, Sachin, Sachin". The entire camera crew was focused at the entrance door.
And after couple of moments, I was able to see this legend from my naked eyes. At Conclave, I got a chance to heard  legend Sachin. ( I felt – Life is Good )
Sachin Daa shared his success mantra, fitness mantra, moto, messages with all of us. Below are some highlights –
To be legend in any stream, one has to have that X factor within you. (X Factor – Passion) – Success Mantra
In any condition, don't let that fire within you down. – Success Mantra
Be balanced, neither to be super excited in success period, nor to be too disappointed at the time of failure. – Success Mantra
Don't find on short cuts – Message by Sachin Tendular to all the Indians
Serving Happiness – Life Beyond Cricket for Sachin
Engage yourself with Outdoor Activities. Exercise in gym is alternative. – Fitness Mantra
Give freedom to your child's dream – Request to parents
To be a good person for the rest of the life – Sachin's Moto
Behind the camera – To see this great legend from my naked eyes and to hear an acknowledgement of "Hi" from two steps away was the lifelong experience. Sachin is truly a super hero and a super Indian.
After 45 minutes of Conclave Keynotes by Sachin, we have to bid adieu to the great leader for the next session "The Economics of Politics, Bringing the Country back on Track".
Speakers for the session – Suresh Prabhu, Nitish Gadkari & Arvind Subramanian.
Highlights –
Good policies targeted at the poor will make good economics. – Said Nitin Gadkari
The 2014 election was a good example of the Indian electorate saying that good economics should be welcomed, said Arvind Subramanian
Privatisation is not the solution to everything that is wrong. Similarly, government control is not the solution to all that is wrong. The outcome and the process to get there is more important. – Suresh Prabu
Just after the above session, I enjoyed the "Conclave Debate session – Young, Educated, Unemployed
Got a Degree, But Where Is My Job? ".
Speakers for the debates – Rajiv Pratap Rudy, Anand Kumar, Chetan Bhagat, Manjul Bhargava.
Highlights –
No Make in India unless we have Skill in India. – By Rajiv Pratap Rudy
Most cultures in India focus on 'settle ho jayo aur achi naukri lo'. This needs to change. – By Chetan Bhagat
Times are changing according to Anand. A driver no longer wants his children to become a driver. Instead they now focus on providing them with quality education at whatever cost.
Math and Science need to be taught in more creative ways to encourage students to pursue core science and research – By Manjul Bhargava
Whether the IIT's are in the global top 200 rankings or not, every student still aspires to study there – By Anand Kumar
Language should not be a barrier for equal opportunities.
As the market for quality plumbers, electricians and carpenters continues to expand, there is a growing need for vocational and skill training.
"I am waiting for the day when I will come across a matrimonial ad seeking a groom who is a plumber instead of a doctor or engineering. I will feel that I have done my job then." – By Rajiv Pratap Rudy
After the healthy Conclave debate, we all move to "Conclave Conversation – We Didn't Start the Fire
But Will We Win the War? ".
Speakers – Manohar Parrikar  & General Bikram Singh
Highlights –
We should be prepared that the neighbours don't think of war. We should build yourself to a level that neighbours don't take "panga" with us. – By Manohar Parrikar
Equipment wise, lot of improvement needs to be done. – By  Manohar Parrikar
93 per cent accidents that took pace since 1986, 62 per cent of them are due to human error, and only 23 per cent are due to technical failure. – By Manohar Parrikar
Currently there are a number of issues. Present mechanism is tardy. – By General Bikram Singh
The quality of ammunition is a problem. – By General Bikram Singh
Here we have Lunch Break. Overall till now we had a great session on multiple issues of India.
Let me unfold the mystery of after lunch Conclave sessions. stay tuned.
Now we have the session "Conclave Show and Tell with Lisa Haydon and she will be talking about What Lies Beneath, #I'mMoreThanMyDress"
Speaker – Lisa Haydon
Highlights –
The essential difference between acting and modelling is that you get judged a lot more when you're onscreen. As an actor, you have to put in a lot more emotionally. But funny thing is your attributes as a model-being too thin and tall-becomes a hindrance for an actor.
A lot about beauty is how comfortable or how confident you are with your body. And I gained that by doing a lot of sports, swimming etc that allows you to do what you want to do. I look at my body as a tool with which one lives life. It's not something to be stared at or judged. It's to be uninhibited.
My role in Queen was of a woman who was what she was, never apologising for the way she thought or lived her life.
Modelling may come across as a very glamorous job as everything looks perfect in a picture. But for that one perfect shot one has to take 100 imperfect ones where you pretty much keep repeating your postures until you get it right.
It's normal to feel inadequate. Don't try to get rid of that feeling, as it's human. Just accept it.
I'm wearing a tuxedo because it makes me feel powerful and intelligent.

It's inappropriate to say women should stay at home. A woman should be allowed to do whatever she wants-be it be a mother, cook a great meal or have a fantastic job.
Our outfits are indicators of who we are not just to others but to ourselves.
I went for my first audition when I was 18, wearing a top and a pair of jeans. When the agency people met me they wanted me to lose 5 kilos. Now here I was thinking that I was skinny and trying all through my school years to gain weight and now I had to lose it all. But then when I moved to India my first assignment was with designer Tarun Tahiliani who said I was too skinny and needed to put on weight. So what I came to understand is that there's no fixed perception of beauty. You are what you make of it.
You may also like –
Save